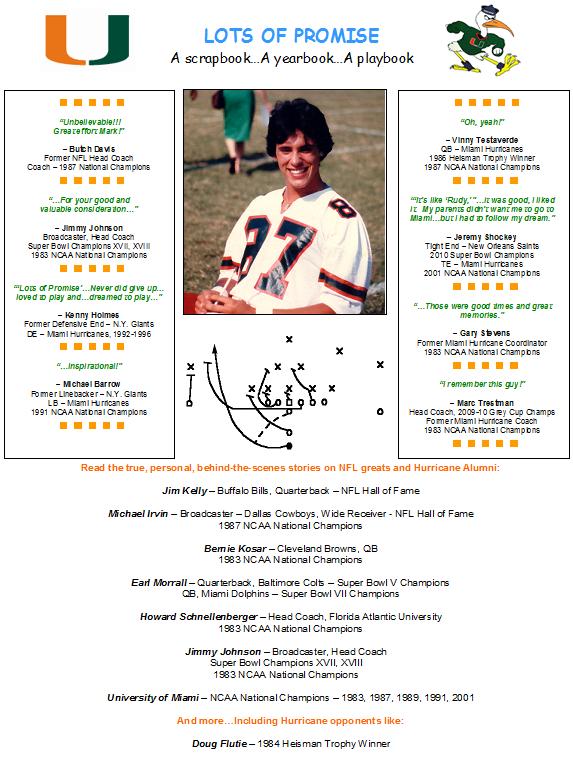 ...

It is also the story of the promise between
a new coach and a "walk-on" player.

In 1982, at the University of Miami, Marc Trestman became a volunteer graduate assistant for the Hurricanes. That year, Mark DiBello "walked-on" as a wide-receiver. By season's end, the underdog player was committed to play and serve his team.

In 1983, with the player's beloved mother in a battle with cancer up North; DiBello knew of only one coach he could call. While Mark's mother insisted he go play, and that she would be okay; Coach Trestman suggested to Mark football would be there for him, again, one day. That season, Mark willfully chose to forfeit participating and the 'Canes won their first National Championship.

In 1985, Coach Trestman told DiBello his wristwatch from a 'Canes bowl game loss would have greater meaning as time went by. It did.

In 2002, at a Monday Night game in Oakland, after 17-years apart, DiBello reconnected with Trestman to renew and re-work a football relationship.

In 2009 and 2010, the then CFL Head Coach
credited his former player with uniquely helping the team win consecutive Grey Cup Championships.

Lots of Promise is the true story of a comedic, God-gifted athlete who must keep
a trio of promises to his mother....